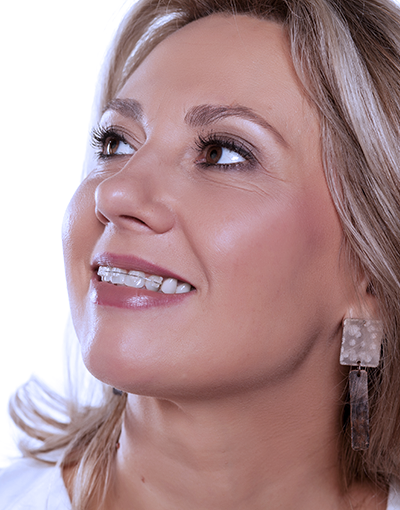 Clear and ceramic braces are a great option for patients who are looking for an alternative to traditional metal braces. Clear and ceramic braces are made of clear or tooth-colored materials, designed to be less visible on your teeth than traditional metal brackets. These types of braces are more commonly used on older teens and adults who may have cosmetic concerns about orthodontic treatment.
Even though patients find them more cosmetically pleasing, ceramic brackets tend to be more brittle than metal brackets. They tend to be used on the front upper teeth and require you to pay more attention to your overall dental care routine.
Length of Treatment 
Clear and ceramic braces treatment options tend to take approximately 18 to 36 months to complete. While the treatment time may be slightly quicker than that of traditional braces, ceramic and clear braces are not recommended for cases with significant misalignment, or malocclusion.
How Durable are Ceramic Braces?
Clear and ceramic braces are incredibly strong; however, they are slightly more fragile than traditional metal brackets. With any type of brackets, it is imperative to take care of your dental health to ensure timely results. Ceramic brackets are at risk of cracking or chipping, so they are more commonly recommended for patients with mild malocclusion.
Can Ceramic Braces Get Stained? 
With tooth-colored ceramic braces or clear braces, their porous material can absorb the food and drinks you consume. You can help your clear or ceramic braces stay bright and stain-free by avoiding foods containing dyes, coffee, dark berries, soda, tobacco, and alcohol.
Ceramic & Clear Braces vs. Traditional Braces
Traditional metal braces and ceramic and clear braces all have their own advantages to creating a straight, beautiful smile. When you visit your orthodontist for your complimentary consultation, they will evaluate your smile and determine which treatment option is right for you.
Clear and ceramic braces are made up of clear or tooth-colored ceramic material, using clear wire to make your braces more discreet. Ceramic brackets may be more cosmetically pleasing, but due to their color and material, they require extra attention to your oral care to avoid staining and damaging the more fragile brackets. Orthodontists tend to use ceramic brackets on the upper front and lower teeth for these reasons. Traditional metal brackets are more durable and may be more suitable for a highly active lifestyle or severe malocclusion.
If you're interested in clear and ceramic braces, request an appointment online or call one of our conveniently located orthodontist offices in Greenville or Easley, SC.