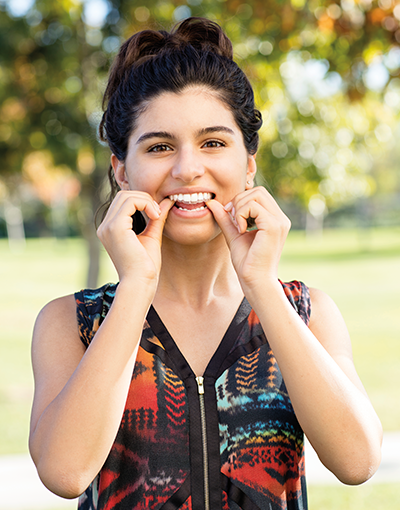 Looking to avoid the hassle of traditional braces? Want a discreet, state-of-the-art orthodontic system that gives you a straight, beautiful smile without the need for metal brackets and wires? Invisalign clear aligners may be just the option for you! Invisalign® treatment provides patients an alternative to traditional metal braces through removable aligner trays that allow you to achieve the smile of your dreams quickly and easily.
About Invisalign Treatment
Invisalign clear aligners are a simple orthodontic treatment that will help you get your best smile in no time! Invisalign treatment is designed to be an inconspicuous option for patients who may have cosmetic concerns about traditional metal braces. To make them as invisible as possible, aligner trays fit tightly against your teeth and correct your misalignment in approximately 18 months, depending on your needs.
Benefits of Invisalign
There are many benefits to utilizing Invisalign clear aligners for your orthodontic treatment:
Invisalign clear aligners are actually clear! They are almost completely invisible when you're wearing the aligner trays.
The aligners are removable. You can take them out to eat, brush, and floss your teeth, making your oral care routine much easier.
Since you can take them out to eat, that means there are no food restrictions during your orthodontic treatment. Take a bite out of an apple or eat a chewy bagel. It's up to you!
With Invisalign treatment, you don't have to worry about adjustments at your orthodontist's office. Simply swap out your aligners for the next set in the series, and you're good to go!
You won't even have to make monthly visits! Most patients only need an appointment every 6 weeks, so we can make sure your smile is progressing the way it needs to be.
Most of the time, Invisalign treatment is quicker than traditional braces. In most cases, patients complete their treatment in approximately 18 months – or sometimes even less!
There's even an Invisalign treatment option for teens whose back molars haven't come in yet.
It's easy to take care of your clear aligners! When you take them out, gently brush them and soak them occasionally to keep them clean.
How Does Invisalign Treatment Work?
Invisalign treatment is custom fit just for your smile! Our orthodontist will take images of your smile using the iTero 3D Scanner, then send those off to a specialized lab. The lab takes the images of your smile and creates a series of virtual models displaying how your teeth will move to become properly aligned. Thanks to the iTero 3D Scanner, this process is easier than ever!
The iTero 3D Scanner is a state-of-the-art digital scanner that takes a quick, easy scan of your teeth without the hassle of impression molds. This scanner creates images of the outcome of your orthodontic treatment to provide a glimpse into your smile's future almost immediately.
Once the lab creates the images of your future smile, they use them to build your custom aligners. Each set of aligners is designed to be worn for approximately 2 weeks before exchanging them for the next set in your series. Your orthodontist will determine the length of your treatment and number of aligners needed to complete your treatment, which typically ranges from 12 to 30 sets.
As you can see, there are many advantages to Invisalign treatment! If you're interested in Invisalign treatment, schedule an appointment at our Easley or Greenville, SC, offices. Our talented orthodontic team will help you determine if Invisalign treatment is right for you.