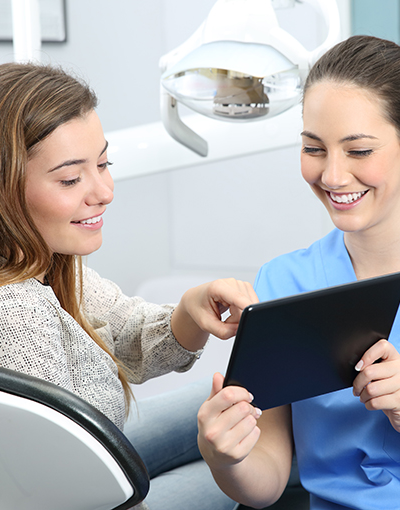 Orthodontic exams are the first step in getting a confident, new smile, and they allow our smile experts to map out the best path for the smile of your dreams. During this exam, our orthodontists will help predict the future of your smile, evaluate any special care you may need, and take a look at your overall dental health, as well as the growth and development of your smile.
What to Expect?
At Ashby Park Family Orthodontics, we believe in creating a comfortable, stress-free environment when it comes to your orthodontic treatment. Your orthodontic exam will start with a tour of our office to help you get acquainted and comfortable in our space. Then, your orthodontist will examine your teeth to determine if orthodontic treatment is needed, explain any orthodontic issues we see, and discuss the best options for your smile.
Your orthodontic exam will take approximately 1 to 2 hours. When you leave, you'll have a great sense of your future orthodontic treatment time, appliances needed, and frequency of appointments to help you achieve the smile of your dreams.
Medical and Dental History Evaluation
Your overall health is important when it comes to your dental health and orthodontic treatment! Before coming in for your complimentary consultation, visit your dentist to make sure you don't have any dental health issues, such as gum disease or tooth decay, that needs to be resolved before you begin orthodontic treatment.
Benefits of Early Orthodontic Treatment
Orthodontists recommend bringing in your child for their first orthodontic exam as early as age 7. Early orthodontic treatment can help ensure your child's smile is growing into its proper position to create happy, healthy smiles for life. Getting a head start on orthodontic treatment can help resolve issues with jaw growth and alignment, as well as identify missing teeth or problems caused by thumb-sucking habits. By starting orthodontic treatment early, you can resolve dental problems early and achieve the smile of your dreams for the rest of your life.